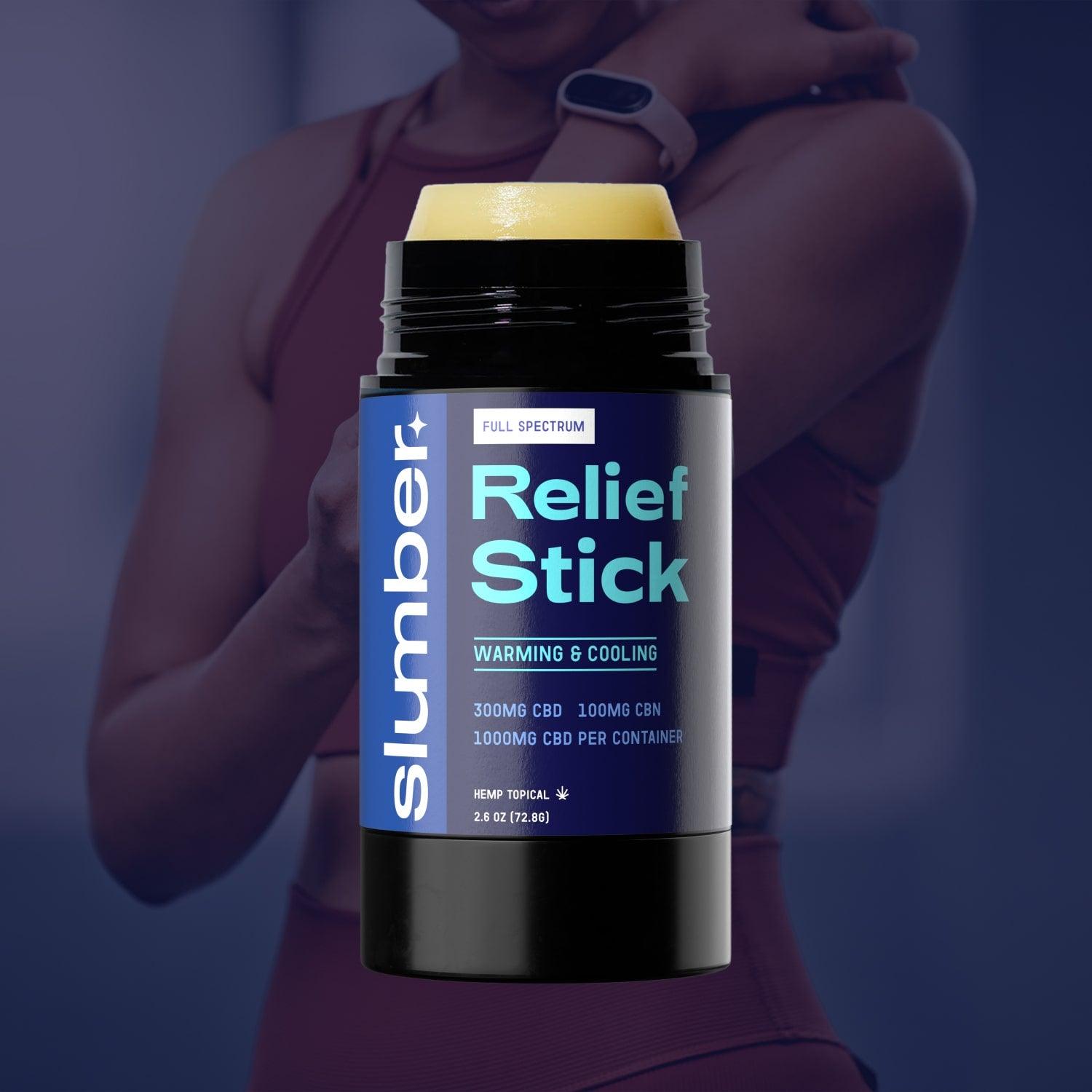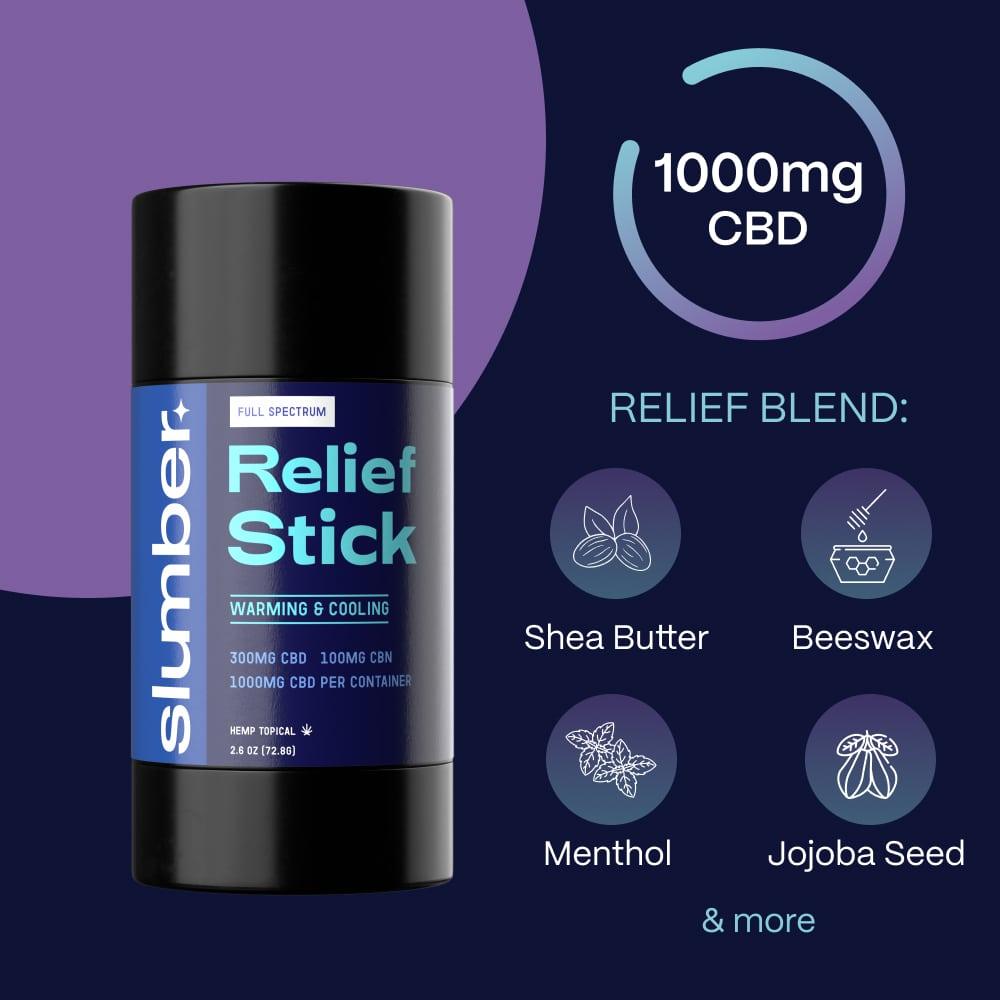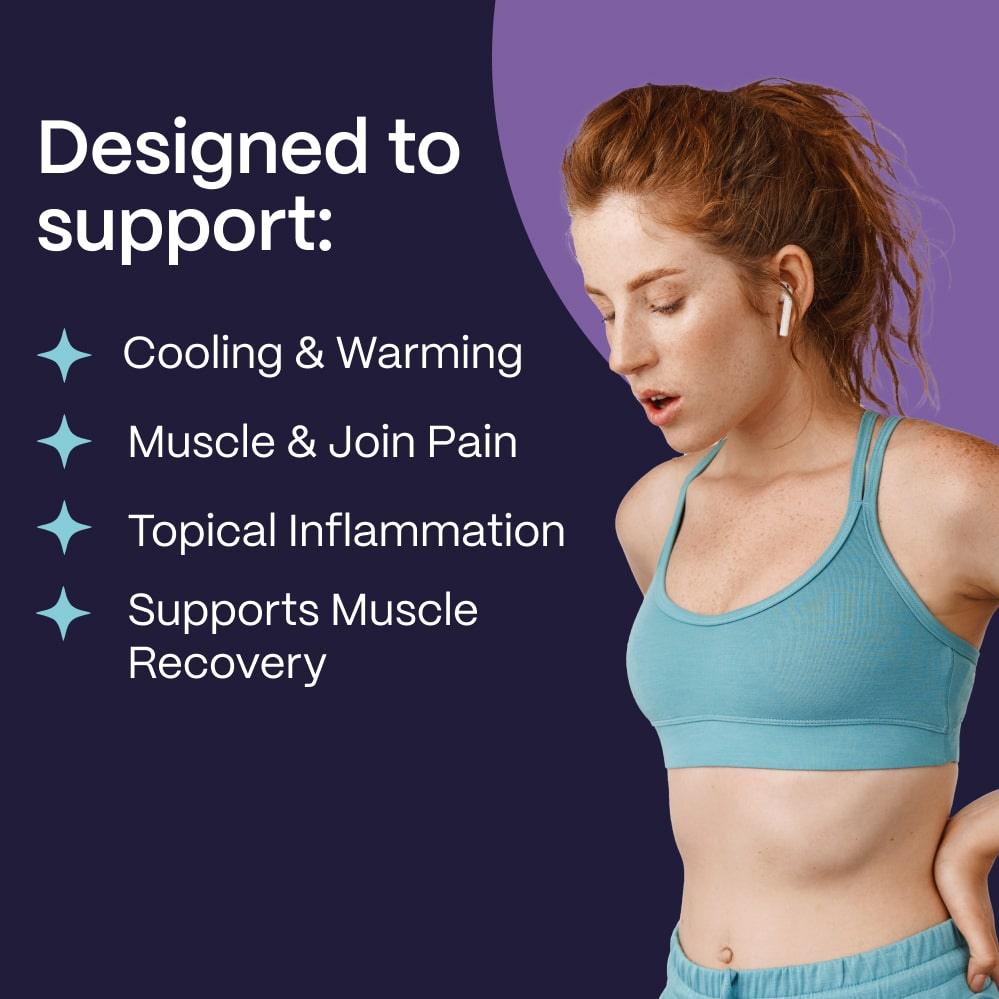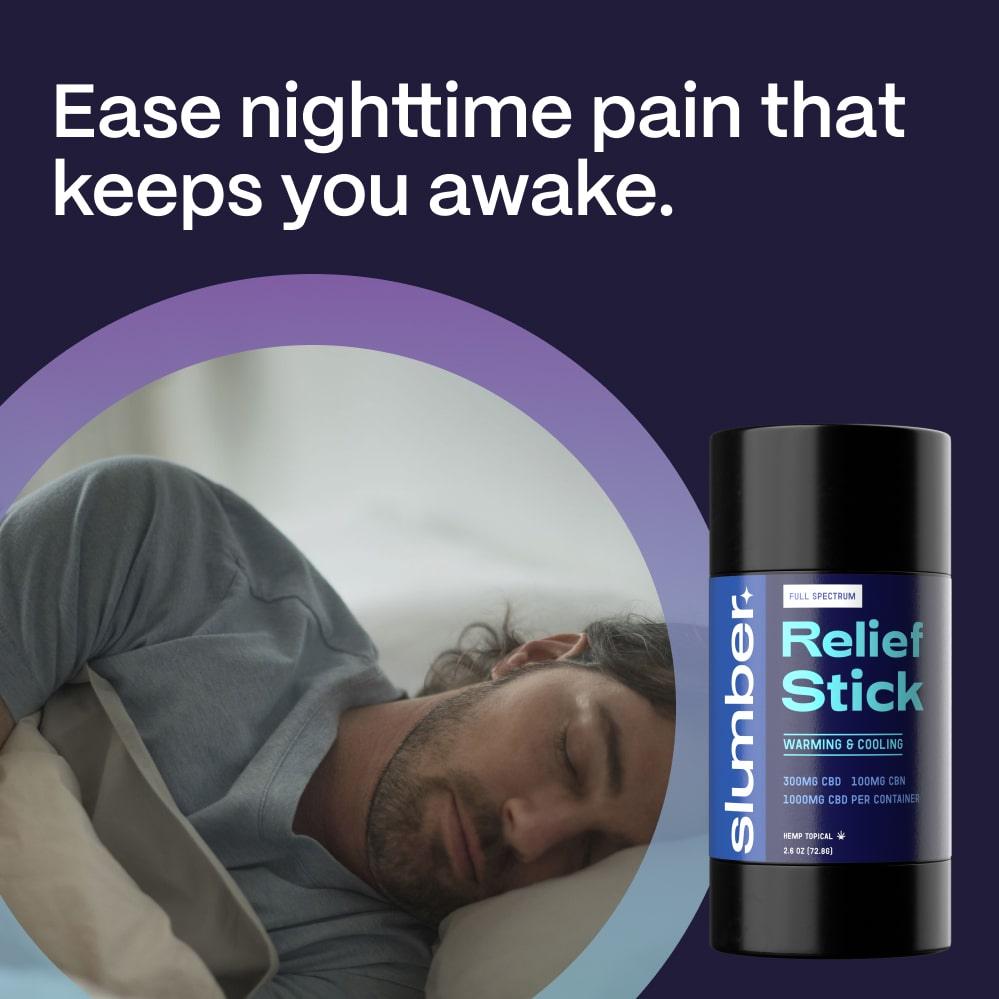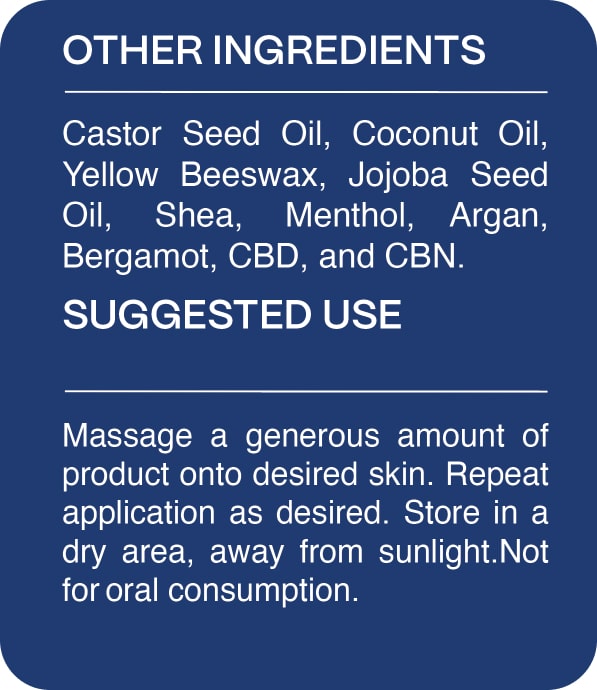 CBD + CBN Topical Pain Relief Stick
30-Day Money Back Guarantee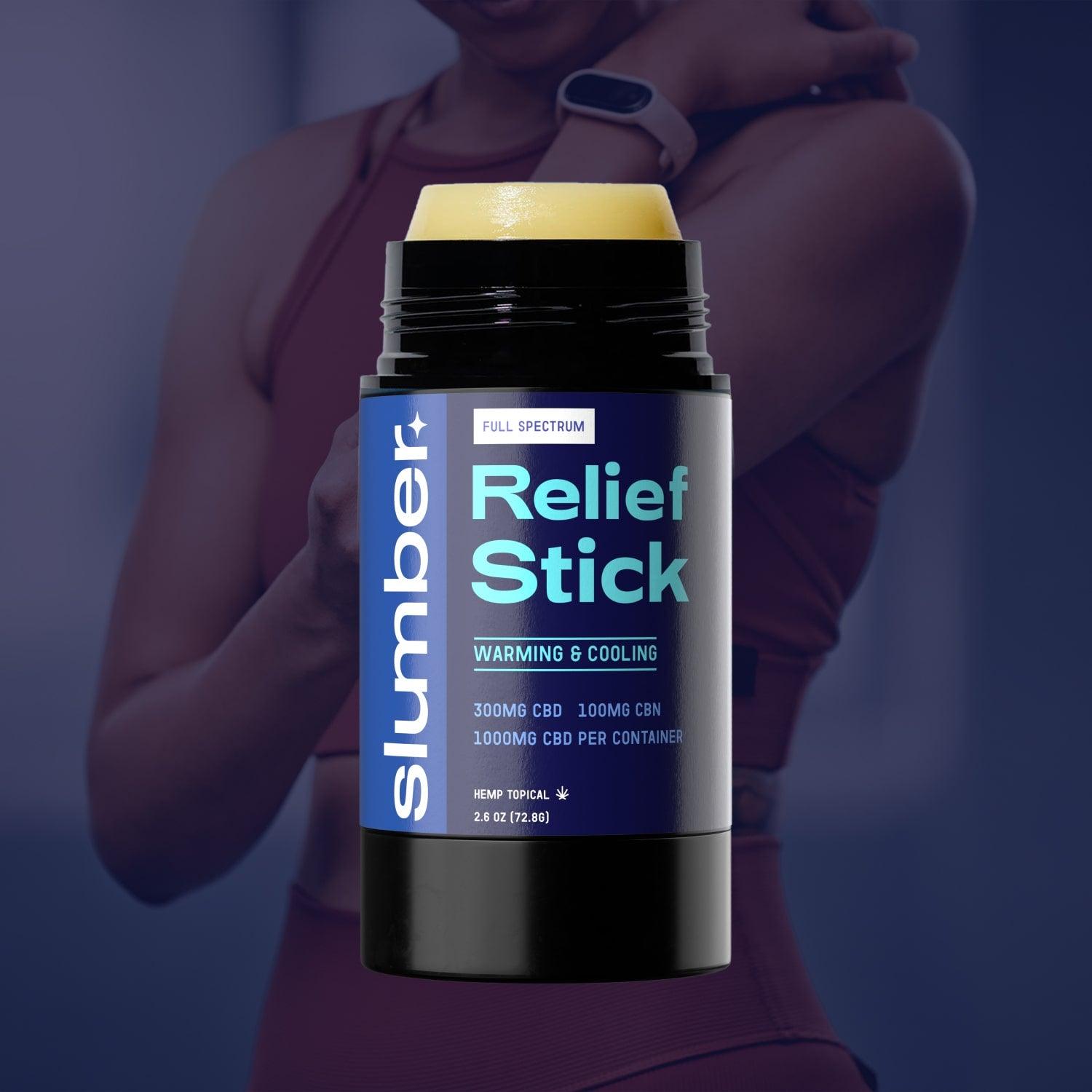 Find Targeted Pain Relief with Our CBD Rub
Our CBD rub relief stick provides targeted relief for muscle aches and pains.* Formulated with premium CBD oil, essential oils, menthol and other natural ingredients, our rub penetrates deep to ease discomfort. Just apply a generous amount to sore areas and feel the soothing, warming and cooling sensation go to work. The CBD interacts with local receptors to reduce pain and inflammation, while other botanicals like arnica and menthol provide topical relief.*
Clean. Tested. Quality Assured
Relieve Nighttime Aches & Discomfort

This unique roll-up stick combines the soothing benefits of CBD and CBN with the warming and cooling sensation of menthol to give you topical relief that's great for nighttime recovery. Does muscular or joint pain keep you up at night? You're not alone. Get localized, topical relief when you need it most with this Menthol-based topical that will warm and cool your aches and pains away.

Designed for a no-mess application that is convenient and portable.
This product contains ZERO THC.
1000 mg Cannabinoids total.
780 mg CBD / 260 mg CBN per 2.6 oz stick.
Castor Seed Oil, Coconut Oil, Yellow Beeswax, Jojoba Seed Oil, Shea, Menthol, Argan, Bergamot, CBD, and CBN.
What makes it warming and cooling?

The addition of menthol provides a cooling sensation, while bergamot oil creates warmth. Just apply a generous amount to sore areas and feel the soothing, warming and cooling sensation go to work!
Massage a generous amount of product onto desired skin. Repeat application as desired. Store in a dry area, away from sunlight.Not for oral consumption.
Pain keeping you awake? Try our CBD pain relief rub
Pain shouldn't keep you up at night. Our soothing CBD rub can provide relief and help you find the sleep you need. Aches and soreness have a way of intensifying when you're trying to rest. The cooling menthol and warming bergamot work together to target discomfort and ease tension. As the CBD and CBN interact with your endocannabinoid system, they help reduce inflammation that contributes to pain.* With both immediate and lasting relief, our CBD rub allows you to relax into peaceful slumber.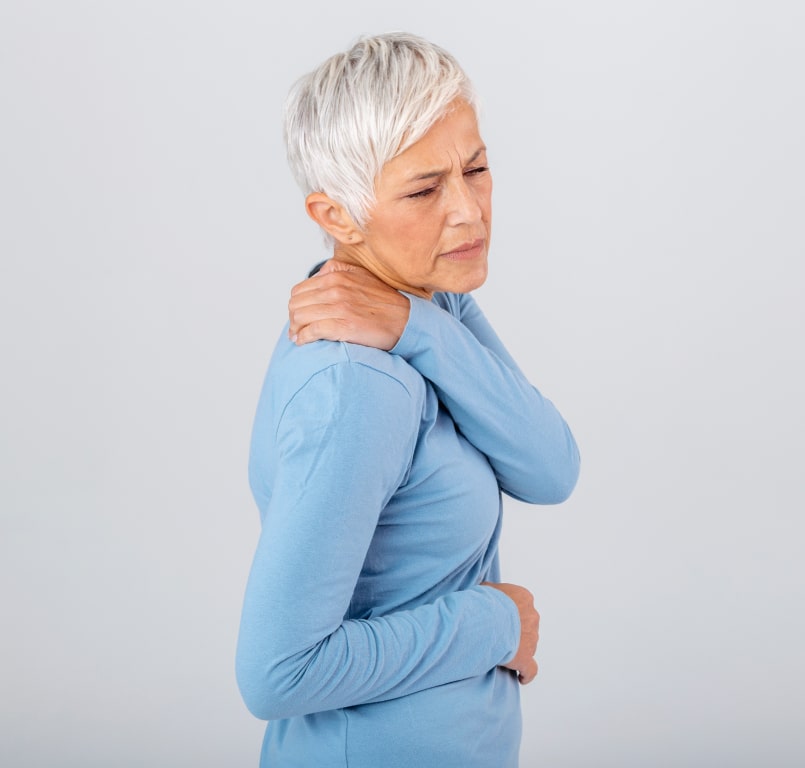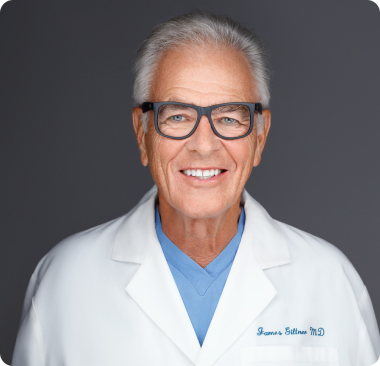 Dr. Jim Giltner
Ophthalmologist with 36 years of medical practice.
With over 36 years of experience as an ophthalmologist, Dr. Jim Giltner is a respected Doctor in the Denver medical community. Dr. Giltner firmly believes that quality sleep is the foundation for good health and longevity.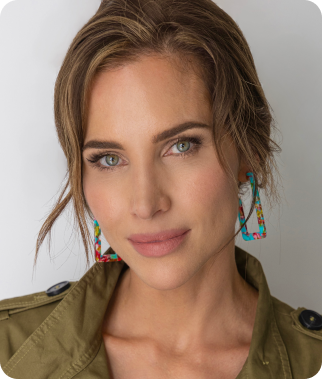 Jillian Tremaine
Holistic Nutritionist (CNT) & Wellness Enthusiasts
Jillian is a Certified Holistic Nutritionist passionate about helping those who are ready to make long-lasting changes to their eating and exercise habits. Specializing in diet management, nutrition counseling, weight loss programs and weight management.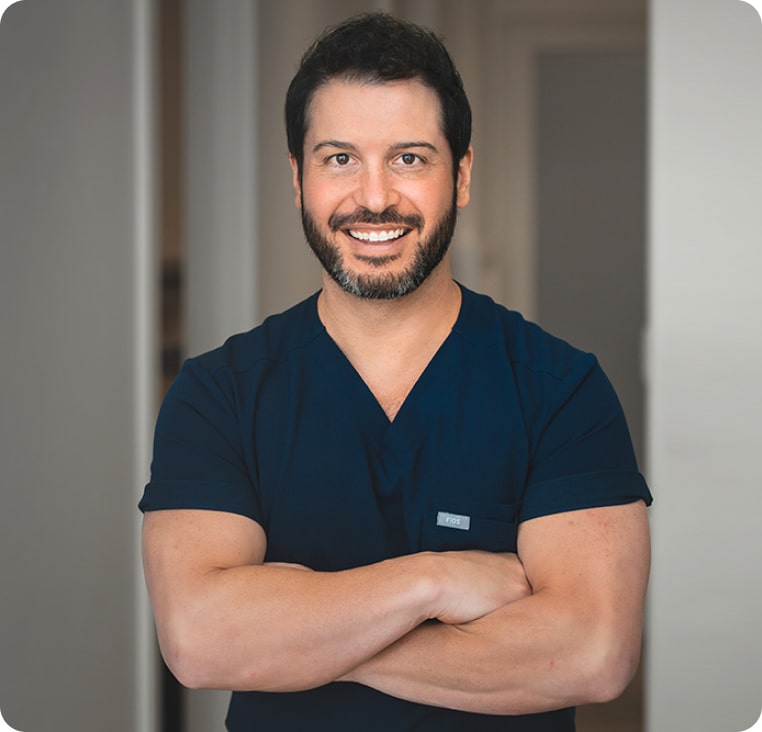 Dr. Tom Palic
Former US Ski Team Chiropractor and medical provider for Red Bull Athletics
With 18 years of clinical experience and dual fellowships in Functional Neurology, Dr. Palic has helped over 8,000 patients bring an end the vicious cycle of recurring symptoms. Specializing in Sports Medicine and Functional Neurology, with a specific background in in athletics.
Sleep Better. Live Better.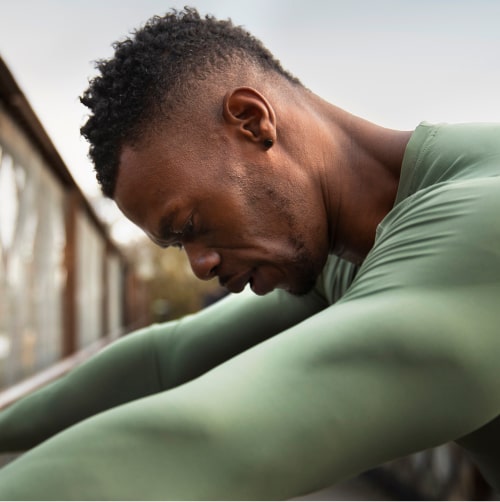 As a trainer, I am always sore! The Relief Stick has helped a lot - especially with shoulder pain that used to keep me awake. It's so soothing.
This product is rated 4.8 of 5.0 stars.
It has received 24 reviews.
Total 5 star reviews: 20
Total 4 star reviews: 4
Total 3 star reviews: 0
Total 2 star reviews: 0
Total 1 star reviews: 0
100%
would recommend this product
Penetrating Pain Relief

Helps arthritis pain in my hands and feet. It helps me skip or reduce prescription pain medications.

Best relief stick

Love love love this stick! I use it every night sleep sooo well.

Relief stick

I love,love the warming cooling relief stick. It's the best relief stick I've ever used!

Great Relief

Bought this for my husband who just went back to work riding race horses at age 62. I am sure I don't have to tell you he comes home after riding 20 miles a day, pretty sore. This product has helped immensely, we use it as a base for massaging his very tired and overworked muscles before bed. The scent is very light and it doesn't leave any greasy residue! The @wise_and _well ladies gave us the tip for your products!

Relief Stick

It's the best! Works like a charm!
Reviews Loaded
Reviews Added
Compliment your evening routine